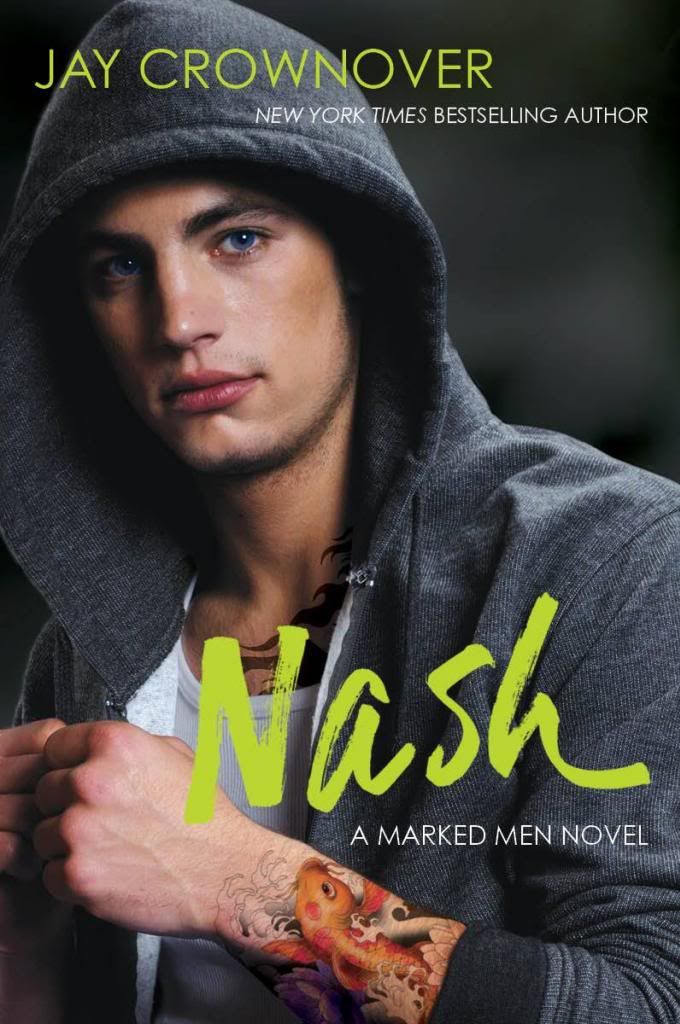 Title: Nash (Marked Men #4)
Author: Jay Crownover
Genre: New Adult/ Coming of Age
Publication Date: April 29, 2014
Publisher: William Morrow Paperbacks, an imprint of HarperCollins
Synopsis
Will their past determine their future?
Saint Ford has worked hard to achieve her childhood dream of becoming of nurse. Focused on her work and devoted to her patients, there's no room for love. She doesn't need a guy making waves in her calm, serene life—especially when he's the unforgettable hottie who nearly destroyed her in high school. Dark, brooding Nash Donovan might not remember her or the terrible pain he caused. But he turned her world upside down . . . and now he's trying to do it again.
Saint has no idea that Nash isn't the cocky player he once was. Uncovering a devastating family secret has rocked his world, and now he's struggling to figure out his future. He can't be distracted by the pretty nurse he seems to meet everywhere. Still, he can't ignore the sparks that fly between them —or how she seems so desperate to get away from him. But the funny, sweet, and drop-dead gorgeous Saint is far too amazing to give up on—especially since she's the only thing in his life that seems to make sense.
When Nash discovers the truth about their past, he realizes he may have lost her heart before he could even fight for it. Now, Saint has to decide: is Nash worth risking herself for all over again?
Nash
by
Jay Crownover
My rating:
5 of 5 stars
This
Marked Men
series just gets better and better with each book that Jay Crownover writes. And it seems like each one of the featured men gets hotter and hotter with each book also! I really liked Jet and Rule, Rome made me fall a little in love, but Nash stole my heart completely! And don't even get me started on how I ALREADY feel about the next book that will feature Rowdy.
Unlike Jet, Rule and Rome, Nash has always seemed sort of like the cool, laid back guy. He was always chill and went with the flow. He was a good friend to several of the main girls in this series, and seemed to pretty much have his life together. Even in this book, while he is dealing with some pretty rough personal stuff, he still makes the perfect boyfriend. Saint, the girl he is involved with, is really the one with the majority of the problems. (Love her name, btw.) Saint has a whole lot of emotional trauma that stems from her being overweight as a high school kid and being made fun of. Plus, she thinks that she overheard Nash making jokes about her and being extremely cruel behind her back. She has carried around those scars and that insecurity for her whole adult life, and has nurtured a hate in her heart for Nash. But when extenuating circumstances keep landing him back in her ER (she's a nurse) time and time again, Saint begins to see that either she is wrong about Nash, or that he has seriously changed over the years. She has always had a crush on him - that's why his callous remarks damaged her so much - but now she is teetering on falling in love with him. The problem is, can she trust him with her heart? He's already destroyed her once, and she doesn't want to give him the opportunity to do it again.
Nash remembers a whole different side to the story. Even though Saint was a little chunky in high school, he still thought she was really pretty and even went out of his way to try and be friends with her. But she was extremely shy and awkward, and one day began to give him the cold shoulder, so he just left her alone. Now that she's back in his life, he's really interested in getting to know her all over again. And it doesn't hurt that she's grown out of her chunky phase and is now a total beauty. But no matter what Nash does, Saint keeps pushing him away. She'll give him an inch and then take back a mile.
"She was just about my favorite thing I think I had ever managed to lay eyes on, and I didn't have a clue what to goddamn do with her."
I loved the push and pull between Saint and Nash. At times, Saint takes it a little too far and acts like a crazy person, but I can see where she's coming from. Luckily, like I mentioned before, Nash is really the most perfect kind of man a woman could ever hope for. He is patient, understanding, sincere, passionate, and he goes after what he wants. Even with all of the personal loss and disappointments that he is dealing with, he still does everything in his power to be the kind of man that Saint needs him to be. He is an all around amazing guy, plus the fact that he is sexy as hell doesn't hurt either!
Overall, I loved this book from start to finish. I love this series wholeheartedly, and I can not wait for the next book to come out!
View all my reviews
About the Author
I'm supposed to share interesting details about myself so that my readers get to know me so here we go in no particular order: I'm an natural redhead even though I haven't seen my real hair color in years, I'm a big fan of tattoos and have a half sleeve on either arm and various other pieces all over the place, I've been in the bar industry since I was in college and it has always offered interesting insight into how men and women interact with each other, I have 3 dogs that are all crazy, I live in Colorado and love the snow, I love music and in all reality wish I could be a rock star not a writer or a bartender but I have zero talent so there is that. I love to write, love to read and all I'm interested in is a good story with interesting characters that make the reader feel something. Thanks for taking the time to check my stuff out...